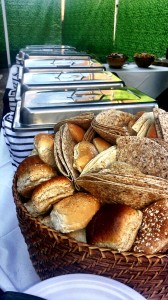 We'd like to extend the warmest of welcomes to Hog Roast Redditch. We like to think of ourselves as the number one hog roast catering service throughout the country of Worcestershire. Why? Because we always aim to exceed your expectations on how a hog roast catering company can help you to keep the party going whatever your plans.
The historic county of Worcestershire has played an integral role in English history since the iron age. For 10,000 years, people have been settling in our picturesque English countryside and seemingly never ending rolling landscapes. But why? After all, Hog roast catering wasn't on the menu until recently!
Why Choose Hog Roast Redditch?
When it comes to planning an event, no two events are the same. Which is exactly why we don't expect everyone to want the same menu. We have carefully designed our menus to be able to suit any type of event, falling under private party catering, corporate hospitality and our wedding menu section. Regardless of your guest numbers, venue, dietary requirements – Hog Roast Redditch will still provide a deliciously distinctive meal for everyone to enjoy.
It's common knowledge amongst the locals that Hog Roast Redditch is the first choice when it comes to choosing a respectable, well trained catering company. The majority of our business is through repeat bookings and recommendations, this alone speaks volumes.
With Redditch being the home to some world class attractions, visitor numbers are increasing each year. This give us every reason to make sure that the visit is as outstanding as possible with a well deserved hog roast catering experience – we believe our visitors deserve nothing but the very best from our little county!
Getting started with Hog Roast Redditch
Whether you've already decided on the kinds of foods you want to serve, or whether you're searching for a lot of inspiration on feeding your guests, we always advise checking out our menus section. This will give you a good idea of what's already on offer, from our expertly crafted gourmet menus ideal for small to medium sized private parties, to our extravagant choice of crowd pleasing menus put together with large weddings and corporate events in mind, you're likely to see a lot that you like. We source our delicious and fresh ingredients from trusted local vendors, but we're open to your requests if you have something a little different in mind.
Speak to us today to find out how we could help you – mouthwatering hog roast catering delivered and staffed by experienced and professional chefs has never been so simple!
Hog Roast Hire – Get in Touch With Your Questions
If you think that Redditch, Worcestershire, and hog roast catering could be the ideal combination of sight seeing and delicious outdoor catering for you, get in touch. We'd love to hear your plans and bring your ideas to life – whatever the size of your event, we'll provide the sensational hog roast feast to suit your tastes and your budget.